The history of the Jurisdiction
If traces of occupation in the Jurisdiction go back to nearly 35,000 years before our era, it is especially from the 8th century that its History begins, when Emilion, a Breton monk born in Vannes, decided to retire to the South. According to the legend, this former steward of the Count of Vannes stole pieces of bread to secretly give them to the poor. One day, while he was carrying some of the pieces under his coat, he was stopped and forced to open his coat. And by a miracle, the bread had turned into wood.
After his departure, he moved to Royan where he devoted himself to religion. Then, he decided to settle in a hermitage near the forest of Ascumbas ("the valley"). Again, Emilion's miracles multiplied, and his holiness became known. Then, many disciples joined him with whom he created a monastic site that took his name right after his death in 767, Saint-Emilion.
From then on, the city and the entire Jurisdiction grew and expanded throughout the Middle Ages. Saint-Emilion even built fortifications as early as the 13th century, some of which are still visible today.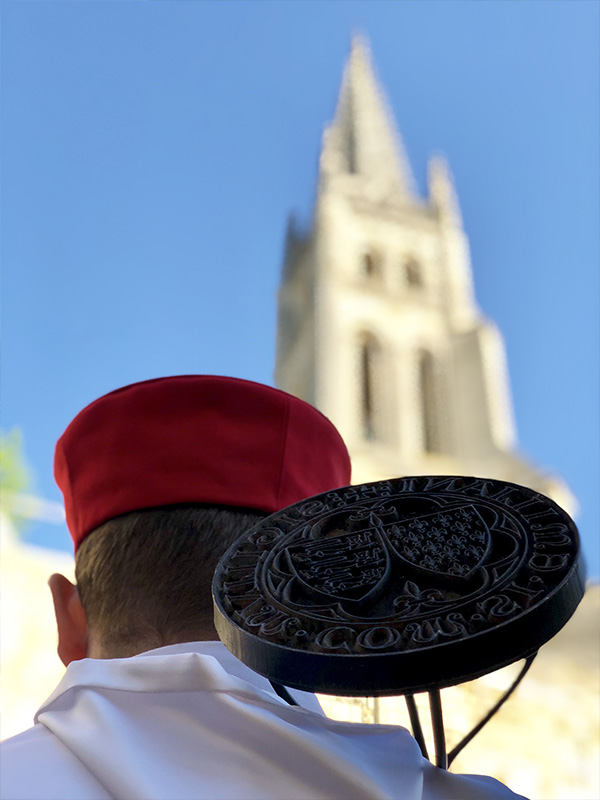 In 1199, John Lackland, son of Eleanor of Aquitaine, became King of England and needed the support of the French territories to establish his power. Also, to reclaim certain regions, he formed alliances with nobles by giving them economic, political and judicial powers. That is how the Jurade was born and governed the Jurisdiction of Saint-Emilion until the French Revolution.
One of their duties is to check the quality of the wines. Also, when a wine is deemed worthy of Saint-Emilion, the barrel is marked with the seal of the Jurade ("the vintner's brand") and is juged ready to be exported, especially to England through boats leaving from the port of Pierrefitte located in the south of the Jurisdiction. Thanks to this exchange, the reputation of Saint-Emilion wine increased: this was the first step towards its current worldwide reputation.
Recreated in 1948 by winegrowers, the members of the Jurade are now the ambassadors of Saint-Emilion's wines throughout the world and they carry the reputation of the various appellations.