The 20th anniversary of the inscription of the Jurisdiction of Saint-Emilion on the World Heritage List has been dedicated to the preservation, enhancement and highlighting of the cultural landscapes. As part of the festivities associated with the 20th anniversary, the "20 years, 20 sites" project has honoured the exceptional elements of the territory in Saint-Emilion and in all the registered municipalities, to give visitors the opportunity to read and understand the landscape and heritage.
Davis Souny, historian, archaeologist and guide-lecturer, has been researching the towns and castles of Bordeaux and the history of the vineyards for the past 15 years. Since 2012, he has been working in particular on the medieval heritage of Saint-Emilion, which has inspired two of his books.
www.histoiresdepierres.fr
Franck Haudiquert, who has always had a passion for images and art, has been a photographer for over 20 years and has also turned to graphic design more recently. After rich and diverse professional experiences, he settled in the Saint-Emilion region and is now inspired by the heritage and beauty of this vineyard to create.
www.fhgraphisme.fr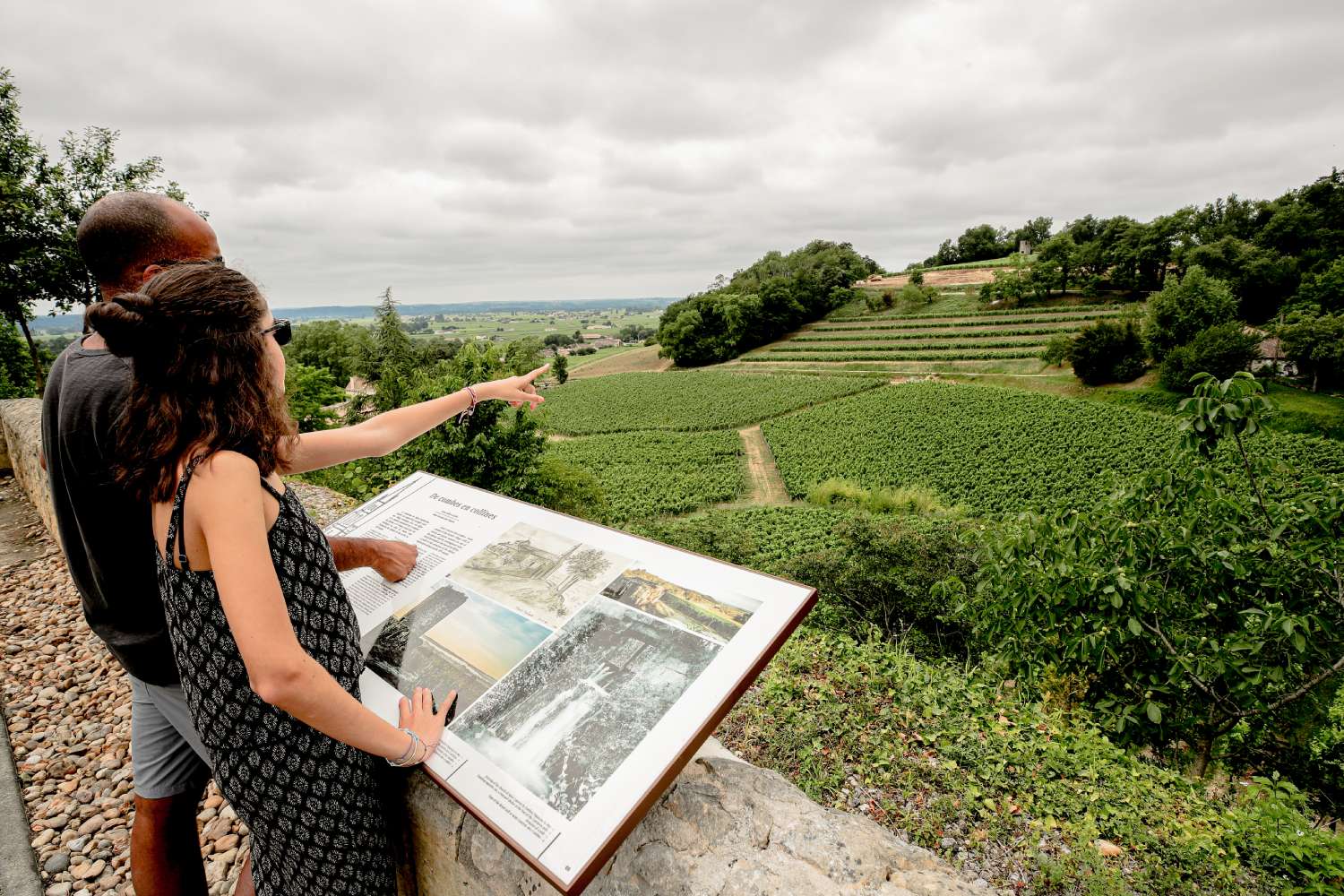 Discover the reading tables
– Vignonet – Bords de Dordogne, l'ancien port médiéval
– Saint-Sulpice-de-Faleyrens – Le menhir de Pierrefitte
– Saint-Etienne-de-Lisse – La croix de Tourans, ancien oppidum de Niort
– Saint-Hippolyte – L'Eglise de Saint-Hippolyte et ses alentours
– Saint-Laurent-des-Combes – Place de l'Église avec vue sur la combe
– Saint-Pey d'Armens – Le jardin de la Mairie, croix hosannière et voie royale
– Saint-Christophe-des-Bardes – Château Haut-Sarpe, panorama et moulins à eau
– Saint-Christophe-des-Bardes – Château Barde-Haut, vue sur la combe
– Saint-Emilion – Le chemin de la pège
– Saint-Emilion – Vue depuis Ausone sur la vigne en ville
– Saint-Emilion – Les jardins et carrières de la rue des douves
– Saint-Emilion – Rue du Couvent, vue sur la Tour du Roy et le clocher
– Saint-Emilion – Le logis de Malet
– Saint-Emilion – L'enceinte Nord-Ouest de la ville
– Saint-Emilion – Les douves du Palais Cardinal
– Saint-Emilion – Place du clocher, un balcon sur la ville
– Saint-Emilion – Place du marché, vue de l'église monolithe
– Saint-Emilion – La Tour du Roy et le Couvent des Ursulines
– Saint-Emilion – La Porte Brunet et le panorama sur la vallée
– Saint-Emilion – La place Bouqueyre
View the reading tables on the Jurisdiction map :
They are partners on this project